Fighting flu together
Published on: Tuesday 29 September 2020
---

The flu can be serious
The flu can be serious, each year the virus kills 11,000 people on average and hospitalises thousands more. The flu virus spreads from person to person, even amongst those not showing symptoms.
Our campaign - #FightingFluTogether
We're delighted to have the support of local residents in our #FightingFluTogether campaign. Look out for Abdullahi, Patricia and Naima across North Kensington spreading the word of the importance of people getting their flu jab and to make sure we are looking after eachother.
The symptoms of flu are:
a sudden fever – a temperature of 38C or above
an aching body
feeling tired or exhausted
a dry cough
a sore throat
a headache
difficulty sleeping
loss of appetite
diarrhoea or tummy pain
feeling sick and being sick
Who is at risk of complications?
Some people are more likely to develop potentially serious complications of flu, such as pneumonia (a lung infection) and the flu vaccine is the best protection for these people. People who are at risk are offered the free flu jab by the NHS.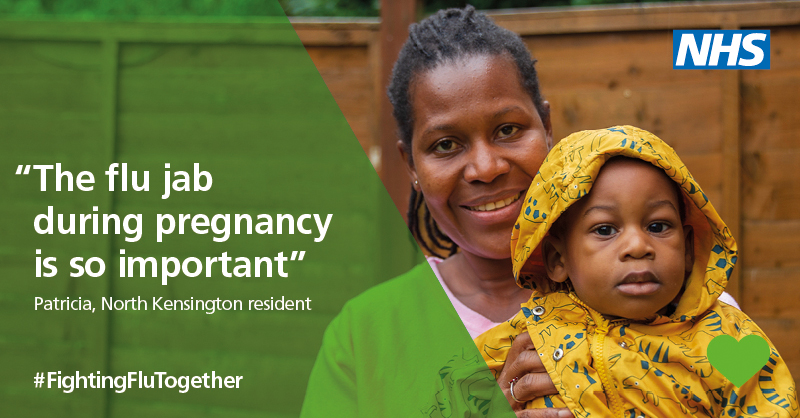 If you are eligible for a free vaccination, your GP practice will contact you directly by letter or text to arrange it, or you can contact your local pharmacy to book an appointment.
Who is eligible for the FREE flu jab?
adults aged 65 and over
adults and children with certain medical conditions
pregnant women
people living with someone who's at high risk from coronavirus, on the NHS shielded patient list
children aged 2 and 3, in primary school and children in year 7 (secondary school)
By having the flu vaccination, you will help protect yourself and others from what can be a severe, and sometimes fatal, illness which could lead to a hospital treatment.
Where to get your jab
Your GP practice will contact you by letter or text to book an appointment, invites will go out from the end of September throughout the flu season. You can contact your GP to find out when you will receive it.
You can also book an appointment at your local pharmacy if you're over 18, find out which pharmacy you can go to https://myvaccinations.co.uk/ or through Boots online https://www.boots.com/online/pharmacy-services/winter-flu-jab-services ​.​​
Resources
These resources can be downloaded and shared and presented to groups to help us #FightFluTogether.
Help us spread the word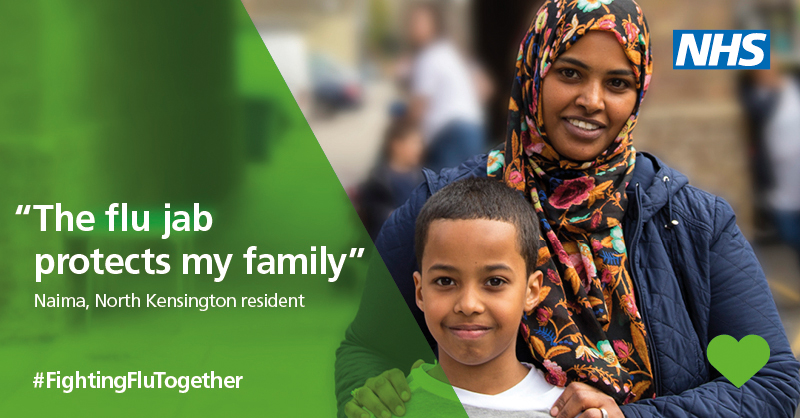 Have you had your flu jab? Use the #FightingFluTogether hashtag to tell us on twitter and we will share with others @WLondonCCG.
Translated leaflets - Who should have the flu vaccine and why?
This leaflet explains how you can help protect yourself and your children against flu this coming winter, and why it's very important that people who are at increased risk from flu have their free vaccination every year.
It is available in the following languages:
Translated leaflets - Protecting your child against flu
Translated leaflets - Protecting your child against flu
This leaflet provides information for parents and carers on why your child should have the flu vaccine, and answers many more questions about the flu vaccine for children. It is available in the languages below.
---