Nowruz celebration at The Friends and Family Assistance Centre
Published on: Wednesday 14 March 2018
---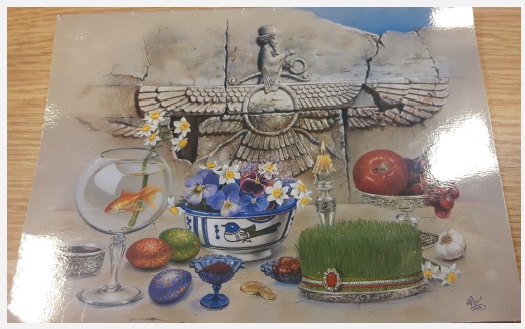 The NHS sends warmest greetings to everyone in the community, coming together to celebrate Nowrouz, the Persian New Year on Tuesday March 20 (at 4:15pm). This is the time that the Earth and the Sun align to start the new season, the beginning of Spring.
It's a cultural event celebrated from Old Persia throughout differing regions and countries, like Afghanistan and Kurdistan.
It's a time for family and friends to meet and greet each other, to celebrate the things that bind us together; and whilst visiting to talk we watch over each other, mindful that it will be a sad time for many of the bereaved as they remember their relatives and friends.
We thought it would be nice to support bereaved families to share this together and not be alone, so the NHS Outreach team has organised a meal on Monday 19 March, from 4pm to 7pm and all bereaved families who are celebrating Nourooz are invited. It's at the Friends and Family Assistance Centre, Fifth Floor, 17 Old Court Place, Lon-don, W8 4PL
There is another event for all Iranians in the community on Friday 23 March at The Curve from 5pm till 8pm.
Please remember that the NHS is here to help everyone, free of charge, with many ways to find the support you want.
You can call your GP
If you donft have a GP the NHS Outreach Team can help - call them on 020 8962 4393 from 8am in the morning to 8pm at night
Outreach also visit people in temporary accommodation, at community events and go door-to-door to check if people need help
The NHS, Hestia and Blenheim run a night support service from The Notting Hill Methodist Church, 240 Lancaster Road, every night, from 10pm at night to 8am in the morning.
More information in this leaflet.
The leaflet is also in Arabic and Farsi.
For emotional health and wellbeing support, and urgent mental health support, call 0800 0234 650. This telephone line is open 24-hours-a-day, seven-days-a-week.
Grenfell Health & Wellbeing Service offers you a range of psychological therapies and support to help you and your children feel better if they are traumatised, anxious, stressed, worried or unable to sleep. You can self-refer online or call us. There is always translators and interpreters and there are therapists who speak Arabic and Farsi.
You can refer yourself here or please call 020 8637 6279 9am to 5pm or email: grenfell.wellbeingservice@nhs.net
---