NHS booklet of services sent to those affected by the Grenfell Tower Fire
Published on: Tuesday 18 December 2018
---
NHS booklet of services sent to those affected by the Grenfell Tower Fire
In the run up to Christmas the NHS is sending a booklet describing the services that are available to those affected by the Grenfell Tower Fire to thousands of households and businesses in the area.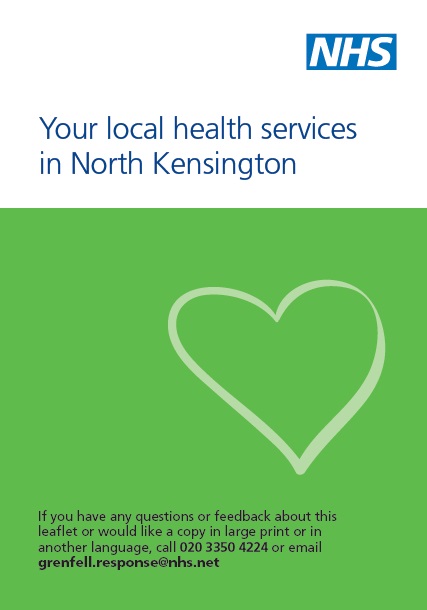 The booklet contains information on the full range of emotional wellbeing and physical health services available to the community including details of who to contact during the holiday period.
Dr Oisin Brannick, local GP and clinical lead for North Kensington Recovery, said: "We want everyone to know how they can access a range of services over the winter including the holiday period. The booklet gives advice on how people can access the right NHS service if they or someone they know needs any help. This includes emotional support, our services are available whether someone is simply feeling sad or if they are feeling overwhelmed and need to talk to someone urgently.
The booklet also gives people the opportunity to feedback their views on the longer term North Kensington Health Recovery Plan which has been developed after speaking to lots of people and community groups and people are telling us what they'd like our priorities to be, including:
Create services that understand faith, ethnicity, culture and gender.
Use social media to engage young people on health and wellbeing.
Support people to lead independent and healthy lifestyles.
Promote NHS health and wellbeing services better.
We're hoping to get more people's views, people can contribute by completing the slip at the back of the booklet and posting it to us for free".
At the same time, the NHS are promoting the Grenfell Night Service, which is staffed by clinicians for local residents who require urgent advice and support and is available between 10pm and 7am every day by calling 020 8962 4393. Clinicians can also arrange to visit residents at home via the helpline. A new leaflet has been produced to publicise it.
Look out for the booklet in the post this week. It is also available on our website.
---