Local MP calls for those affected by the Grenfell Tower fire to get their free flu jab
Published on: Monday 6 November 2017
---
Kensington MP, Emma Dent Coad is calling on those affected by the Grenfell Tower fire to take the opportunity to get the free flu jab now on offer. It follows the NHS's decision to extend the free annual flu vaccination to all former Grenfell Tower residents and those from the surrounding neighbourhood.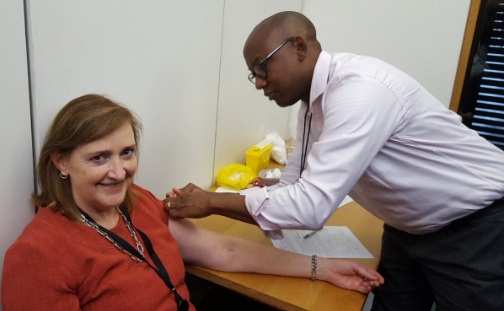 Emma Dent Coad MP receiving her flu jab recently

All local surgeries and pharmacies can provide the vaccination. Housebound or hotel-based patients should contact their GP surgery or outreach worker to assist in arranging it.

Emma who had pneumonia two years ago which has left her vulnerable, and with asthma, said: "I've had the flu jab myself as it helps to protect me and those around me. So I would encourage everyone affected by the Grenfell Tower Fire to get the flu jab as well."
The flu vaccination is usually free for those at risk from the virus including pregnant women and people suffering from an underlying health condition like Chronic obstructive pulmonary disease (COPD), asthma, diabetes, heart or kidney disease, or after a stroke. Flu on top of health conditions like these can easily develop into something very serious.
The free flu jab will be available at two events we are holding at the end of the month for the local community. See the details here.
See other sections of this site for more services available in the North Kensington area.
---