Grenfell anniversary - information and support
Published on: Tuesday 9 June 2020
---
Grenfell anniversary – taking care of yourself and loved ones
The anniversary period is a difficult time for many in North Kensington. Everyone will react in different ways, but the NHS is here throughout this period and beyond to support you and your family.
Marking the anniversary

Marking the anniversary throughout this pandemic comes with additional challenges. When thinking about how we mark the third anniversary we must do so cautiously particularly to protect members of our community we know are disproportionately impacted by Covid-19.
This years celebrations are being led online and you can join from home, here is the schedule we realise it's not quite the same but we will be together in spirit.
Local NHS and public health guidance has been published to support, you can read it here.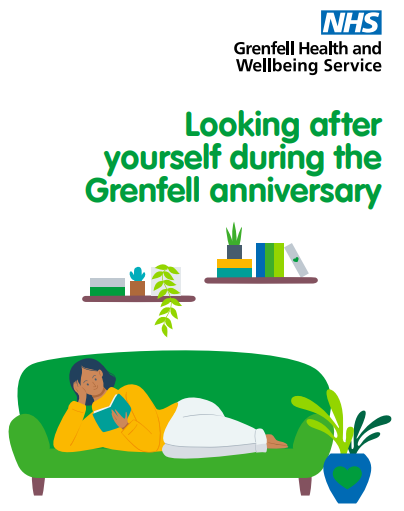 Advice & support
It's more important than ever you look after your mental and emotional health and wellbeing at this time. The Grenfell Health and Wellbeing Service has published some guides with some suggestions and advice that might help, click on the links below to download the information and share with others:
You can also watch this video:
I need to speak to someone, or know someone else who needs help
If you or someone you know has been affected by Grenfell, and needs support, or you'd just like to have a chat you can call us on 020 8637 6279. You can also contact the NHS 'Single Point of Access' 24/7 including out of hours including weekends. The service is confidential and you are not required to give any personal details, call 0800 0234 650 or email cnw-tr.SPA@nhs.net.
You can find out more here grenfellwellbeing.com/contact-us
I have another health worry
If you are worried about any aspect of your health then speak to your GP in the first instance, you can request an extended appointment with your practice reception if you need more time.
Your GP can also book you in for an enhanced health check. These appointments are currently over the phone but will be back up and running physically as soon as possible.
If you need healthcare or treatment it's important you contact the NHS
The NHS is here for you and is actively encouraging people not to hesitate in speaking to their GP or in an emergency, calling 999.
Our hospitals are well organised to support both Covid-19 and non Covid-19 patients safely.
---