Local NHS invites all to come and 'check your health'
Published on: Wednesday 2 October 2019
---
The NHS in West London is inviting all adults and children in North Kensington to book an appointment for an 'Enhanced Health Check'.
Following the tragedy at Grenfell Tower over two years ago, the local NHS has put this service in place to offer local people an assessment of their health and wellbeing. The Enhanced Health Check looks at overall physical health and focusses on lung function, breathing and emotional wellbeing.
Doctor Meena Nathan, GP and Clinical Lead for North Kensington said: "The health and wellbeing of our local residents is important to us. We want to encourage people to book an appointment for an Enhanced Health Check and get any assurances that they may need."
So far, over 1,000 people in North Kensington have already had an Enhanced Health Check. The checks are designed to find the early signs of any underlying health problems that might be present. It is also an opportunity for people to discuss any health concerns they may have and ask any questions.
Ali Osman from North Kensington has been for his Enhanced Health Check and said: "I'm really happy that I went for the Enhanced Health Check. It was really helpful, the nurse was able to answer all of my questions and it definitely put my mind at ease about my health. I would definitely recommend it."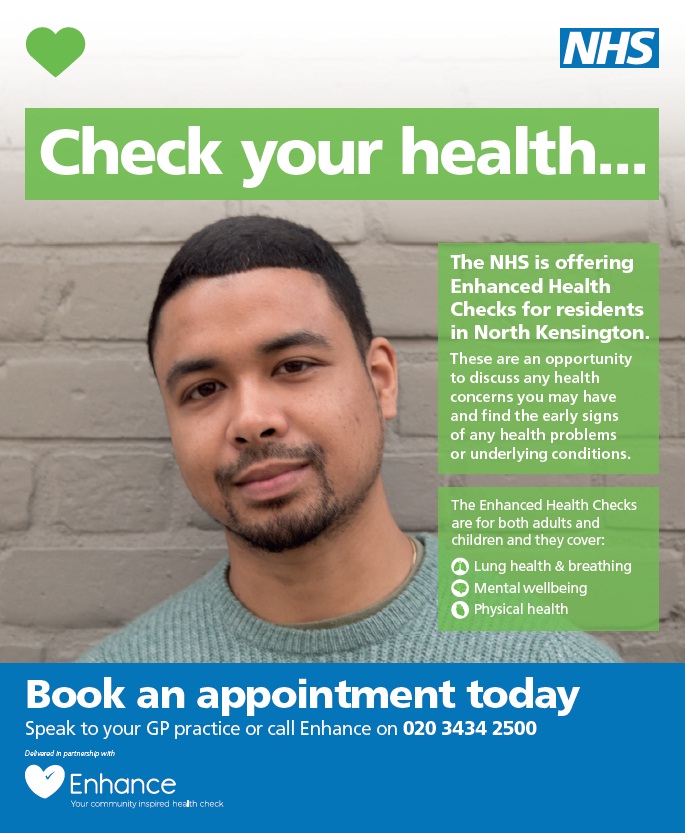 Following the health check if any further investigation is needed people are referred onto specialist NHS services such as the Grenfell Health and Wellbeing service, fast track respiratory and paediatric services.

Katie Ferrett, Enhance service team leader said: "It is important that people can access an Enhanced Health Check as soon as possible. Appointments are offered in the community to give people a choice of time and locations, making the check easier to fit into their daily lives".
Book an appointment today

Enhanced Health Checks are available via your GP practice and our community partners Enhance. To book an appointment speak to your GP practice or call Enhance on 020 3434 2500. For more information visit www.Grenfell.nhs.uk.
---