Free wellbeing courses for Grenfell community this autumn
Published on: Friday 1 November 2019
---
The Lancaster West Residents' Association (LWRA) has partnered with the Grenfell Health and Wellbeing Service and CNWL's Recovery & Wellbeing College to run a programme of free wellbeing courses for the Grenfell community this autumn.
The pilot project first ran courses for the community in the summer, at different community venues.
Following its success the Recovery and Wellbeing College and Grenfell Health and Wellbeing Service will now be working with various organisations in the community to offer free Grenfell wellbeing workshops in the coming months.
This latest programme being run with the LWRA consists of five sessions on sleep, developing resilience, managing stress coping with Christmas and understanding anxiety.
They are open to everyone living in Kensington and Chelsea and anyone affected by Grenfell.
They will all take place at the Lancaster West Estate Community Centre, 1A Station Walk, W11 1WF
All the workshops are co-produced by practitioners and people using services, and are co-delivered by both a peer trainer and a practitioner trainer.
You can book your place by calling 020 3214 5686 or emailing recoverycollege.cnwl@nhs.net
"We are committed to working in co-production with the community to deliver workshops and courses that are culturally relevant to the wellbeing needs of people in Kensington and Chelsea," said Dr Sue Williams, Chartered Counselling Psychologist, who is part of the team working on the project.
CNWL's Recovery & Wellbeing College is a learning and development centre that provides a range of courses, workshops and resources for staff and people using CNWL services, their carers, supporters, and families.
Download the poster here for more information.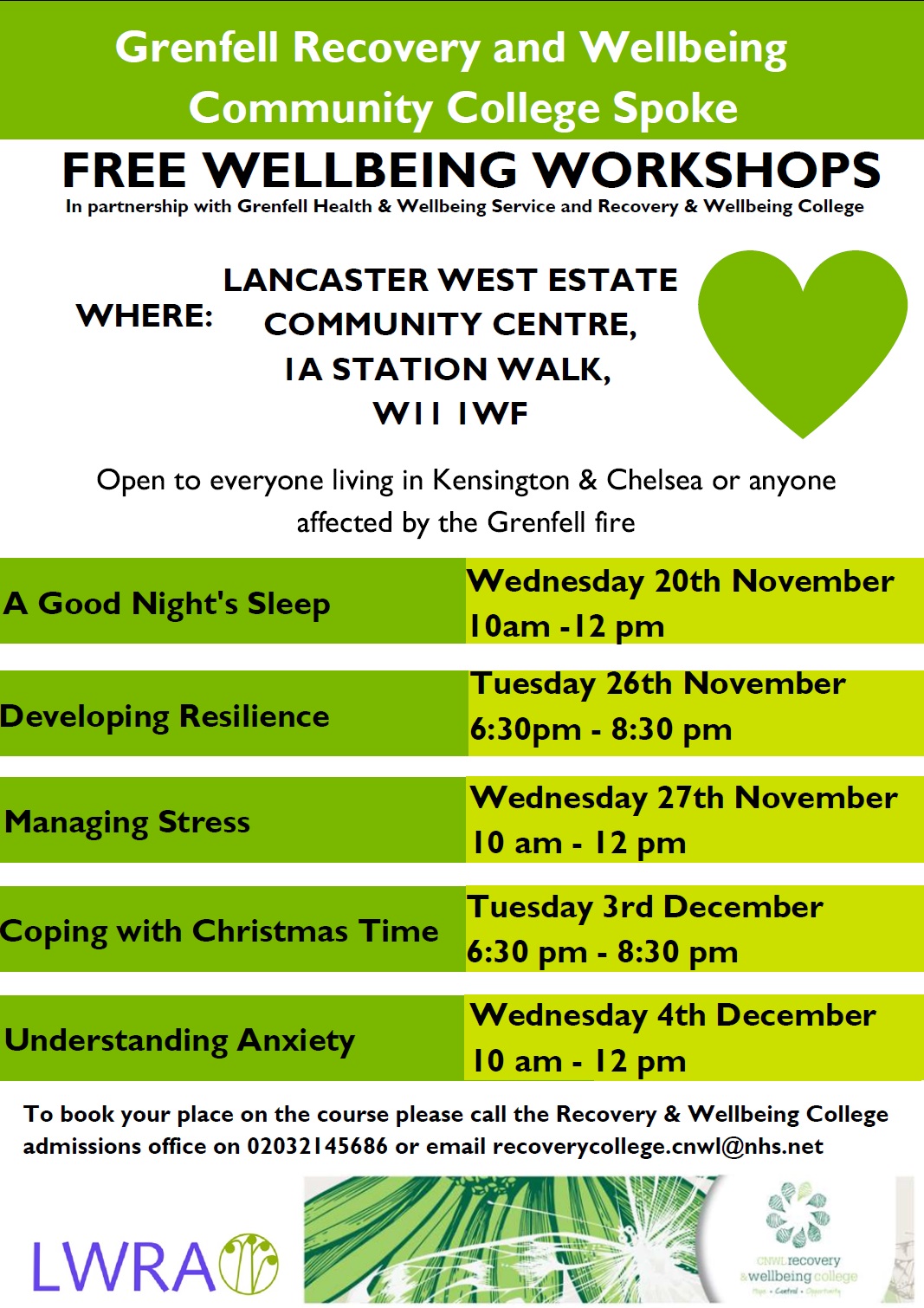 ---